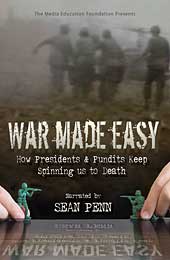 Announcing a benefit for Media Alliance, co-presented by Media Alliance and Media Action Marin.
Watch Norman Solomon's film "War Made Easy: How Presidents and Pundits Keep Spinning Us To Death." The film is narrated by Academy Award-winner Sean Penn.
Following the film, BE THE MEDIA publisher David Mathison will moderate a question and answer session with author and media critic Norman Solomon.
See the latest ABC News article on the film and Sean Penn here.
More about the Book here.
About the Movie.
View more video clips.
Saturday April 5, 2008 at 4:00pm, doors open at 3:30pm.
Lark Theater, 549 Magnolia Avenue
Larkspur, CA
Tickets are $10 to $15, sliding scale.

To learn how to create your own independent film
See chapters 6 and 7 of BE THE MEDIA: