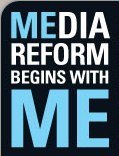 The National Conference for Media Reform (NCMR) is the largest and highest-profile gathering of media reform advocates in the nation.
The NCMR brings together thousands of activists, media makers, educators, journalists, scholars, policymakers and engaged citizens to meet, tell their stories, share tactics, listen to great speakers and build the movement for better media in America.
NCMR 2008 will be in Minneapolis on June 6-8, 2008. Register now!
In 2007, David Mathison spoke at this conference on "Organizing for Cable Access in a Changing Regulatory Environment."

This year, BE THE MEDIA will exhibit in Booth 125. Books are available from onsite book vendor Birch Bark Books.

2008 conference speakers include:
Bill Moyers, PBS
Dan Rather, former anchor of CBS News
Senator Byron Dorgan (D-ND)
Michael Copps and Jonathan Adelstein, Federal Communications Commissioners
Arianna Huffington, HuffingtonPost.com
Amy Goodman and Juan Gonzalez, co-hosts of Democracy Now!
Naomi Klein, author of No Logo and The Shock Doctrine
Lawrence Lessig, Stanford University; founder, Creative Commons.
Tim Wu, Columbia University
Van Jones, Ella Baker Center for Human Rights