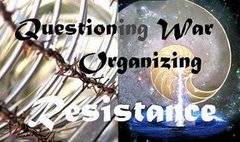 Carol Brouillet of Questioning War - Organizing Resistance will interview BE THE MEDIA publisher David Mathison on Monday November 12 from 7:00- 8:00 pm (PST).
In this interview, Mathison compares today's digital media renaissance with previous pivotal periods in human history, such as the Axial Age (800-200 BC), the Carolingian Renaissance (800-900 AD), and the European Renaissance (1400-1700 AD).

A replay of the interview with David Mathison is available here.